3 weeks post amp!
Tripawds is a user-supported community. Thank you for your support!
We've been M.I.A for a few weeks (crazy busy around here) but I wanted to give everyone an update on my little guy 

He's had his stitches out for about 3 weeks now, the incision is almost completely healed and the hair is growing back in.  His spirits are back to normal and he runs around our house like nothing ever happened! If it weren't for the physical evidence, you'd never know he was a TriPawd 

  He loves playing fetch again with his favorite toy ….his chewed up frisbee 

We had our first experience with other people.  He ran up to a man in the neighborhood and the guy asked "what happened to his leg?"  I said "he had cancer" and his reply was….. "he sure can run fast!" 

Yes sir, yes he can 

We feel so grateful and truly blessed to have our little guy back, pain free 

Thank you all so much for your support!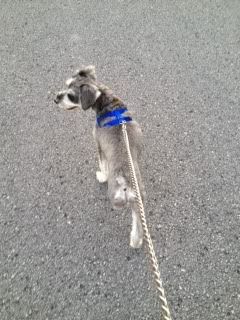 Piper taking me for a walk around
the neighborhood